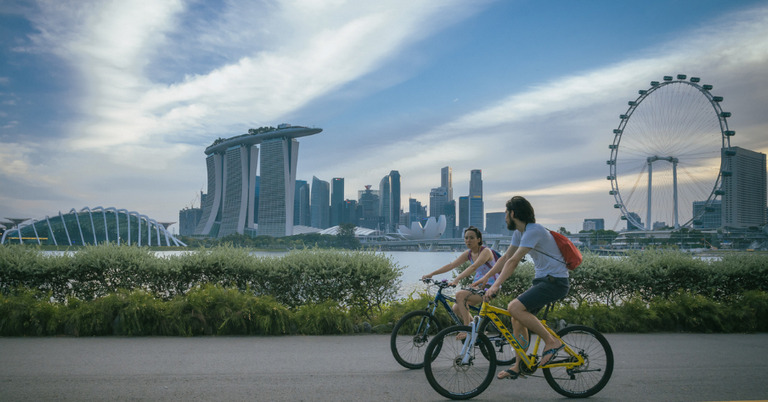 Four simple tips for taking care of your wellbeing in the new normal
Post on November 5, 2020
We've all heard stories of people running the equivalent of a marathon inside their homes during lockdown. Or cultivating a new meditation and yoga routine that they actually stick to. Or learning a new craft. Not all of us have had that motivation. Some of us feel like we've gone backwards: we've become less fit, less healthy and less productive. "It's okay to not be okay" is not just a Korean TV drama, it's become a kind of global anthem.
Here are some tips for taking care of your health and sanity during these times of uncertainty:
Move:
The first thing Clinical Psychologist, Dr. Claire Nicogossian, asks clients who are experiencing anxiety is, "How much exercise are you getting a day?" Moving your body increases endorphins (the happy hormones) and helps you sleep better, which in turn promotes mental health. The general advice is to aim for 30 minutes of moderate physical activity every day.
If you find it difficult to motivate yourself when exercising alone, try an online class, or create a routine with a friend. Step counters are also an effective way to keep yourself accountable. We have fewer options now, due to social distancing, but that doesn't mean we have to give up entirely. Choose one thing you love and stick to that. Consistency is key to building a habit. If for example, you take a walk at 9pm every day, soon it will become an automatic impulse.
Talk:
Stop texting and pick up the phone. Hearing the other person's voice provides a deeper feeling of connection than reading and writing messages. So set up calls (or even better, video calls) with family and friends to get a regular dose of social support. It's not about the number of people in your social circle, it's about the quality of your relationships. Even having one good friend you chat to once a week can make an enormous difference to your mental and emotional wellbeing.
Beware of social media, though. Even though it's the first place many of us go to for connection, it's also rife with bad news and angry discourse. Mental health professionals have long been advising that we change our social media habits. Therapist Jor-El Caraballo, L.M.H.C., suggests using social media differently – to your advantage. If you can't cut down on social media, reduce the time you spend on stress-making platforms, and reallocate it to ones that makes you laugh.
Eat:
Do you get so focused on work that you forget to eat? Or do you find that you are snacking more often throughout the day? For many of us, our eating habits have changed a lot since working from home. In these stressful times, simple healthy choices are more important than ever.
Instead of planning to eat a perfectly balanced diet, which may prove unattainable, just make sure you're eating some fresh vegetables every day. Whether you're cooking at home or eating out, fresh fruit and vegetables are essential. You can also add some mood-boosting food to your diet. As specialist dietitian Liza Strydom recommends, "The antioxidants in dark chocolate help to fight off stress and anxiety… and oily fish such as tuna, salmon and sardines are full of omega-3 acids, which may play a role in easing depression."
Knock off:
Stick to your set working hours. It's very easy, when you're working from home, to just keep going. Research shows that people who work from home tend to work longer hours. If you find it difficult to maintain that all-important work-life balance at home, try working at a co-working space a few days a week. That'll help separate work life from home life. Plus, seeing everyone else leave at the end of the day will make it easier for you to knock off too.
At workbuddy, we offer access to over 45 of Singapore's best co-working spaces with one pass. Find a space near home, the yoga studio or your kid's school. Work wherever you want, whenever you want. Our monthly membership options give you the flexibility to find a routine that suits you.
Click here to try workbuddy FREE for a week!
Take care of yourself,
The workbuddy team.
RECENT POSTS