About
Us
The proliferation of coworking spaces in Singapore shows that the way we work is changing. Workplaces are undergoing significant change, fuelled by demands for efficiency and the need to innovate quickly.
The rise of digital technology and the shared economy has changed the way we work forever. The demand for efficiency, agility and innovation is greater that it has ever been before. Founders Gaurav and JX watched the co-working revolution grow from a handful of workspaces to almost 200 just a few years. However, they saw that although co-working spaces provided greater flexibility, there were limitations, as members still had to commute and commit to year-long contracts. They wanted to give Singapore professionals a new level of freedom, where they can access workspaces all over the city, anytime they need to. And that's how workbuddy was born.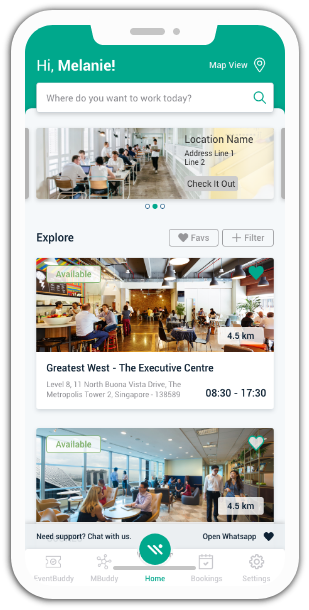 Why workbuddy?.
For Teams
Save money
Downsize your fixed space and free up budget for what matters.
More Flexiblity
Say goodbye to fixed contracts and say hello to a workspace solution that adapts with your changing needs.
Happier Teams
All of the coworking spaces in our network are verified and have consistently excellent community support.
For Individuals
Save money
Workbuddy plans cost less than most co-working space memberships with more workspaces to choose from.
More productivity
Escape the home office and check into spaces designed for productivity.
More Community
Meet like-minded freelancers, entrepreneurs, and even potential clients.