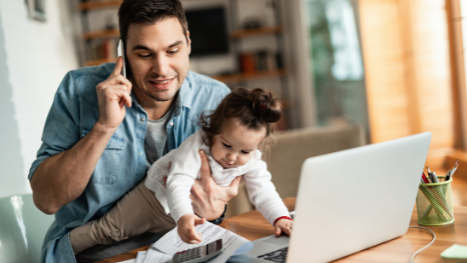 Are you suffering from WFH Fatigue? A hybrid work model can help.
Post on March 18, 2022
Working from home was supposed to be great. We thought we'd convert our commuting time into exercise time or chilling time. We thought it would give us more work-life balance. But after two years, working from home is actually starting to take its toll on a lot of people.
Global stats show that remote workers are working more, not less. We're having more meetings and longer work calls. We're more stressed and depressed. We find ourselves missing the office (something we thought we'd NEVER do)! Why? Because working in the office gave us more defined working hours, a clear-cut routine, and more opportunities to socialise.
If we can't go back to the office full time, or just don't want to face those long commutes again, we need a more flexible solution.
We need more choice in our work lives — not just the office, a co-working space or home, but a hybrid mix of each, depending on our individual needs.
Here's how a hybrid work model can help restore your work-life balance now, without waiting for the pandemic to end.
Hybrid restores work-life balance
With so many more distractions at home, it's harder to focus on the task at hand. Plus, your team may have the bad habit of messaging after hours, and you may feel pressured to respond right away. There are also fewer leisure activities available due to social distancing rules, so it's harder to unplug at the end of the day.
All this amounts to longer working hours–up to 3 more hours a day, according to Bloomberg.
The truth is, work will be never ending if you don't establish boundaries. Or, more importantly, find an easy way to enforce those boundaries (sheer will-power rarely works).
A hybrid work model gives you the option of working from home, working at the office or choosing to work at a nearby co-working space depending on your needs.
With only 50% of employees allowed back in the office at any time, being able to access a professional co-working space (when and where you need it), can really help restore those boundaries between work and home… and improve your work-life balance!
2. Hybrid helps build team morale
Who else has had enough of communicating solely by email or WhatsApp? Written messages are much more likely to get misunderstood, and it takes effort to avoid offending people. When talking in person, it's much easier to ensure everyone understands, and to use a friendly tone.
If you're collaborating on a project, wouldn't it be great to just meet up for a few hours and hash everything out in-person? (Don't get us started on Zoom…)
With a hybrid work model, your team can meet in a nearby co-working space whenever they need to. Research has shown that your environment has an impact on your mental state, so why not meet for brainstorming sessions in a beautiful workspace that inspires creativity?
3. Hybrid encourages a healthy lifestyle
Who here had grand goals of converting their commuting time into to exercise time when working from home? "I'll have time for a full workout every day!" Ah, the best laid plans.
Exercising at home alone takes a lot of willpower and discipline. And even though gyms are opening now, getting yourself out of bed for the sole purpose of working out can sometimes feel like an insurmountable challenge.
You can make exercise an effortless part of your routine again by checking into a co-working space near your favourite gym. That way, you can pop into an exercise class before, during or after your workday. It's on the way, anyway, so you'll have less resistance. Soon, it will become a habit and you'll start getting back into shape!
4. Hybrid promotes wellbeing
After months of working from home, you may be feeling isolated and bored. You may be missing the comradery of banter with your colleagues or even just having other human beings around you. Being confined in the same space with no new stimuli for so long is enough to make anyone go stir-crazy!
It's time to take a more hybrid approach and get your work-life mojo back!
Take a shower, put on clean clothes, run a brush through that hair, and get out of the house.
With a workbuddy membership, you can check into a co-working space even just one day a week, to work in a professional space with other professionals around you; and start to feel human again.
You get access to not just one, but more than 45 co-working spaces across the city. Each has its own vibe and community. This way, you can switch up your environment, experience a different view, talk to new people, try a new café, and enjoy the feeling of exploring something new again.
Now that Singapore is gradually easing restrictions, you can find a new work routine that suits you. And is flexible enough to roll with the current level of uncertainty we find ourselves in. If you can't return to the office, but are struggling with working from home, why not check into a co-working space near you? Workbuddy provides on-demand access to a whole range of co-working spaces across Singapore, all of which have implemented strict safety protocols.
With workbuddy, you can enjoy Singapore's best workspaces without committing to long-term contracts. We offer rolling monthly memberships for individuals and teams that you can cancel anytime. We're here to provide a more affordable, flexible way of working, and help restore your work-life balance (and your sanity 😉).
Interested in finding our more about flexible workspace solutions for individuals and teams? Contact the friendly team at workbuddy.
Flexible workspaces
No Commitment. Pay as you go.
Work where your life is
RECENT POSTS