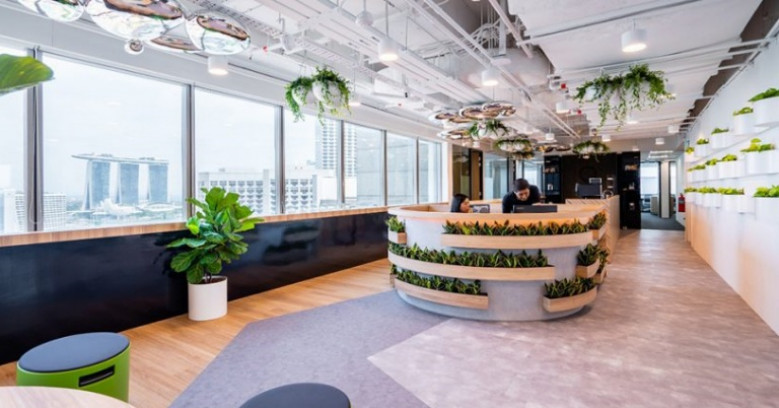 Introducing O2Work — Your new eco-friendly workspace!
Post on September 27, 2019
We are excited to announce the addition of a beautiful new workspace to our growing network of co-working locations across Singapore!
O2Work is a brand new eco-friendly co-working space that inspires creativity and supports productivity. With nature and sustainability at the heart of their business, O2Work is focused on building an inclusive community that provides a thriving and sustainable work culture, so members can work well together and live healthier.
Let your best ideas take flight in a healthy environment located on the top 2 floors of Odeon Towers, City Hall.
We spoke to Mr. Robert Li, CEO of O2Work to find out more.
1. What three words best describe O2work?
Eco-friendly and invigorating with a relaxed vibe. 'Wellness at work' would best describe what we're all about.
2. Tell us a bit about your parent company and the idea behind the brand?
O2Work is the brainchild of parent company, 'Inner Mongolia M Grass Ecology and Environment Group' (or M Grass for short).
M Grass is a leading eco-technology firm specialising in indigenous plant acclimation and environmental restoration. We have over 20 years experience and have restored more than 1,200 square kilometres of barren land.
Having seen the benefits of environmental restoration, we decided to apply our specialised knowledge and technology to office workspace — to create a healthy, inspiring space where workers can enjoy cleaner air and increased productivity.
3. What makes O2work unique?
When you walk through our doors, you will notice that O2Work features three-dimensional greenery and an eco-system of plants. Experience cleaner air, reduced stress, improved health and increased productivity. From the selection of building materials and furniture to the energy-efficient appliances and design layout, O2Work is dedicated to creating a clean, healthy workspace.
4. What are your favourite things about your new location at Odeon Tower?
Odeon Tower is centrally located and easily accessible — just three minutes from Bras Basah and five minutes from City Hall station
Members will enjoy the stunning views of Marina Bay Sands while working in a healthy and relaxed environment surrounded by fantastic cafes and restaurants.
5. What regular events will you be holding to help members network?
We are planning to hold frequent Monday breakfast and Friday Pot luck events with guest speakers from Singapore's SME Association.
Of course we will also host a variety of health related activities such as Yoga and Pilates to help members stay refreshed and invigorated at work.
We are always open to hearing any requests or suggestions from members as well!
6. What's next for O2work?
We are planning to expand and open another 2 new co-working spaces within the next two years, one by the end of this year and the next one by mid-2020.
Watch this space for new and exciting developments!
Interested in working in a clean and healthy environment? Book a free week with workbuddy to visit O2Work and see!
RECENT POSTS