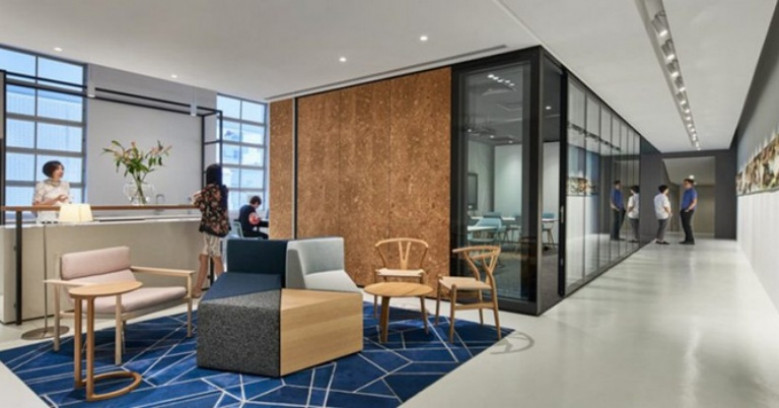 Meet Paperwork, Your New Collaborative Workspace
Post on May 28, 2019
Members, welcome to your new location: Paperwork! We are delighted to count this beautifully designed co-working space among our ever-growing family of partners and give you even more locations to access with your Workbuddy pass.
Paperwork is housed in the National Design Centre at 111 Middle Road. So next time you're in the area, book yourself a hot desk in their gorgeous cocreation area and enjoy those free flow drinks!
There's a lot to love about Paperwork, and we talked to Audrey Chin to find out more.
What three words best describe the Paperwork vibe?
Warm and personable, inspiring, with a sense of belonging. That's more than three words, but you get the idea.
What makes Paperwork unique?
Paperwork is the brainchild of Paperspace, a company specialising in workplace strategy and design projects for corporate clients. The space is specially designed for collaborative projects and flexible work, and this puts us in a unique position to offer myriad opportunities for our residents, who connect with each other on a creative level and enjoy sharing ideas, opinions and knowledge.
Our meeting rooms are equipped with ergonomic desks, chairs and furniture. And our community of design leaders have unlimited access to our resource library — plus all the benefits that come with working in the National Design Centre, the nexus of creativity in Singapore.
What are your favourite things about Paperwork?
Our residents! They create the collaborative spirit with their passion, spontaneity and positive attitude. We also love the design, look and feel of the space. It evokes a sense of professionalism and functionality, while being relaxing and inspiring.
In general, what is the SME-to-freelancer ratio of your members?
Most of our residents are SMEs, so I'd say the ratio with freelancers is about 10-to-1.
What regular events do you hold to get your members mingling?
We host events centred on three themes: knowledge, inspiration, lifestyle and social. This year, we have upcoming talks for knowledge on the human brand experience, digitalisation, skills and grant support for SMEs; photography and design exhibitions for inspiration; and relaxing activities like yoga for lifestyle. We especially love our "Posh Pot" events, where residents take turns to share a specialty home-cooked meal!
What have been the most popular workshops you've hosted?
Our LEGO® SERIOUS PLAY® workshop during the 2019 Singapore Design Week was a great success! Paperwork partnered with two residents, Angela Koch of Invitro Innovation and Seri Tasripin of Affinity Group to organise a hands-on workshop titled "Play is the Future of Work!" for residents and their clients. It was great to see everyone interacting with each other and discovering their creativity through fun activities and challenges.
What can members look forward to in 2019?
We have plenty more specially curated events to look forward to this year. On top of that, we're thrilled to be collaborating with the Design Singapore Council, who have an exciting programme lined up that will bring more opportunities for our residents to learn, collaborate and grow.
And we will continue to celebrate the spirit of knowledge sharing at Paperwork as we find new ways to support our members in showcasing their skills to the larger creative community.
Do you want to find out what working in a designer space is like? Book a free week on workbuddy to visit Paperwork and see!
RECENT POSTS