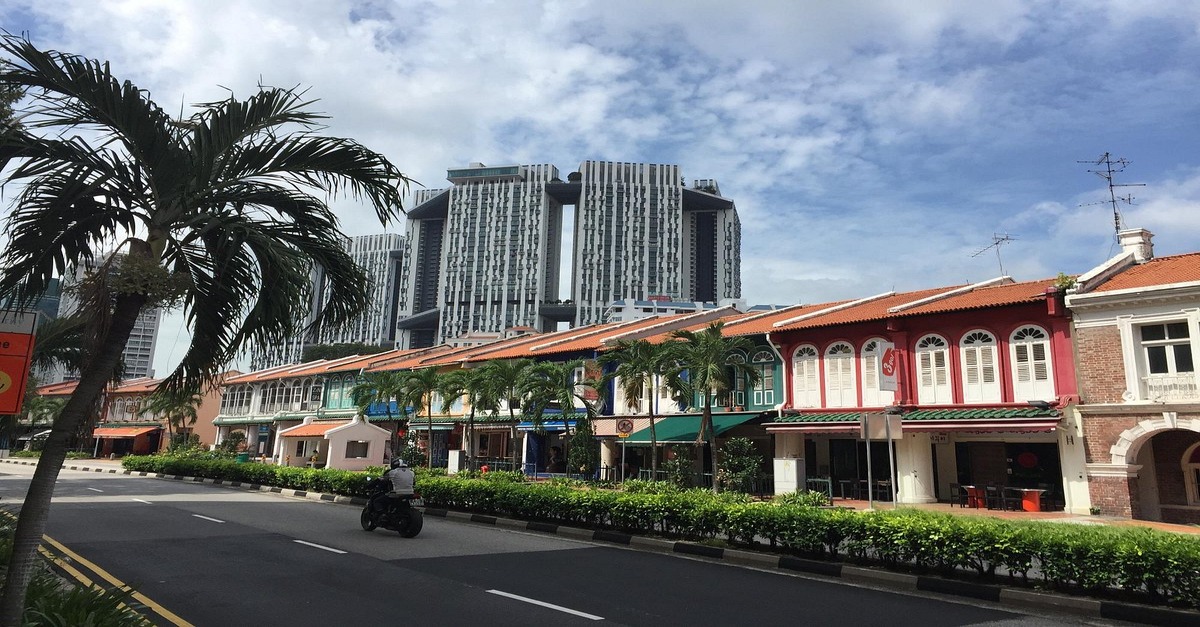 Where To Work, Eat And Shop In Tanjong Pagar | Coworking spaces and offices in Tanjong Pagar
Post on June 21, 2023
Situated adjacent to Singapore's bustling Central District, Tanjong Pagar is a vibrant neighborhood that seamlessly combines various elements, offering a rich tapestry of experiences. From its historical landmarks and cultural sites to its array of dining establishments and office spaces, Tanjong Pagar presents an enticing blend of old-world charm and modern sophistication. It serves as an ideal location for both work and leisure, catering to the diverse needs of residents, professionals, and visitors alike.
Numerous modern offices stand shoulder to shoulder to provide inspiring workspaces and virtual offices for businesses there. If you work nearby or intend to rent a new office, follow our guide to discover the hippest places to eat, shop and work in Tanjong Pagar.

Places to Eat in Tanjong Pagar

1. Cafes & Coffee Shops – Alchemist


Alchemist is a popular café located in International Plaza, within the bustling neighborhood of Tanjong Pagar in Singapore. Known for its specialty coffee and unique brew methods, Alchemist has gained a reputation as a go-to spot for coffee aficionados and enthusiasts. Another popular place for coffee in Tanjong Pagar is Abseil, a new minimalist coffee bar At Shenton Way.


2. Napolli Pizza – Pizza


Napolli Pizza, located on Anson Road in Tanjong Pagar, is a popular restaurant known for its authentic Italian-style pizzas. With a focus on quality ingredients and traditional preparation methods, Napolli Pizza offers a delightful dining experience for pizza enthusiasts.


3. Hokkaido Sushi – Japanese


Anson Road in Tanjong Pagar is brimming with some of the best Asian restaurants in Singapore. Hokkaido Sushi is a well-known Japanese restaurant located within M Hotel in Tanjong Pagar, Singapore. Offering a delightful dining experience, Hokkaido Sushi specialises in serving authentic and high-quality Japanese cuisine, with an emphasis on sushi and sashimi.
The restaurant's interior is elegant and modern, providing a comfortable setting for guests to enjoy their meals. The skilled chefs at Hokkaido Sushi take great care in crafting each dish, using fresh and premium ingredients to create a memorable culinary experience.


4. Bara Food – Indonesian Food


Bara Food in Tanjong Pagar is a popular Indonesian restaurant that offers a delicious array of authentic Indonesian dishes. With its focus on traditional flavors and culinary techniques, Bara Indonesian Food aims to provide a memorable dining experience for guests.
Nestled in Icon Village in Enggor Street, immerse yourself in the exciting flavors and textures as you navigate through the menu's splatter of sambal sauces and the wide range of grilled and fried meat options. Dine in or grab a takeaway at this famous Indonesian restaurant to bring delicious occasions to your office or workspace in Tanjong Pagar.


Tanjong Pagar - Shopping & Attractions

1. Tanjong Pagar Centre

One of the highlights of Tanjong Pagar is This mixed-use development is home to a range of retail outlets, including fashion boutiques, specialty stores, and dining options. The centerpiece of the complex is Guoco Tower, one of Singapore's tallest skyscrapers, offering panoramic views of the city.

2. Duxton hill and Keong Saik Area

One of the major attactions in Singapore are These charming streets in Tanjong Pagar are lined with heritage shophouses converted into trendy restaurants, cafes, and bars. Experience a blend of old-world charm and contemporary dining options as you explore the area.

3. Telok Ayer Green

This peaceful green space in the heart of Tanjong Pagar offers a tranquil oasis amidst the bustling city. Enjoy a leisurely stroll or relax on the benches surrounded by lush greenery in the heart of the central business district.


Office Rentals in Tanjong Pagar

1. Tanjong Pagar Centre:
This iconic development houses Grade A office spaces within Guoco Tower, which is one of Singapore's tallest skyscrapers. It offers state-of-the-art facilities, panoramic views, and proximity to various amenities.

2. 79 Anson Road:
Located in the heart of Tanjong Pagar, 79 Anson Road offers a range of office spaces suitable for different business sizes. The building provides modern amenities and is well-connected to transportation links.

3. Mapletree Anson:
Situated along Anson Road, Mapletree Anson is a premium office building known for its architectural design and excellent facilities. It offers a conducive work environment and is close to Tanjong Pagar MRT station.

4. workbuddy - Virtual Offices and coworking spaces in Tanjong Pagar
Under the remote working trends, coworking spaces and serviced offices are on the rise to provide small and medium-sized businesses with a physical address and office-related services – including a prestigious mailing address, phone-answering services, meeting rooms, and videoconferencing – without committing to any dedicated office space.
Whether you are looking for co-working spaces or meeting rooms in Tanjong Pagar, feel free to contact us to request rental details and availability. We are happy to offer flexible workplace options and an optimal work environment tailored to your budget and team needs.
RECENT POSTS