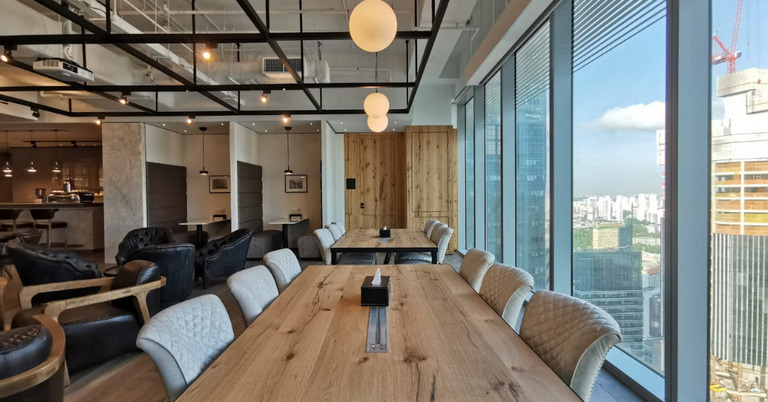 Welcome to The Executive Centre, the newest addition to our network of co-working spaces in Singapore!
Post on March 2, 2020
Workbuddy members, make sure you book into The Executive Centre, Ocean Financial Centre. This super prestigious co-working space is definitely one you will want to check out!
We interviewed the team at The Executive Centre to find out what members can expect.
What three words best describe The Executive Centre?
Premium. Best-In-Class, Customer-Focussed.
What makes The Executive Centre unique?
The Executive Centre (TEC) is a long-standing pioneer and market leader in premium workspace solutions in the Asia Pacific. With over 130 Centres in 32 cities and 14 countries, TEC's core focus is on providing high-end functional spaces that empower members to succeed.
We focus on providing best-in-class products and services. Much like the airline industry, where corporates see the value of business class vs. economy class; Our goal is to provide the 'business class' section of the airplane, which delivers a superior experience through quality service and attention to detail.
What are your favourite things about The Executive Centre?
The core value of The Executive Centre is to provide best-in-class, premium workspaces to help members succeed and grow. Based on a 'members first' philosophy, TEC has created a community of like-minded professionals and strives to provide businesses with an opportunity to "work smarter, not harder" and achieve flexibility, cost effectiveness and productivity.
What regular events do you hold to help your members network?
The Executive Centre is always anticipating new ways to facilitate business and personal growth. During the past 15 months, we have hosted over 750 community events globally, including monthly member's drinks, business & leadership seminars, health and wellbeing programs etc.
What have been the most popular workshops you've hosted?
Wellbeing, Healthcare and Corporate Social Responsibility programs are always extremely popular, as well as Business and Leadership events.
In addition to our community events, our workspaces are designed to facilitate connections and collaboration amongst members.
What's next for The Executive Centre?
Singapore is an important market for TEC, where we have had an established presence since 1999. We have just recently expanded our presence in the prestigious Ocean Financial Centre to cover the full 37th floor.
What can members expect from the new workspace?
The new extension on level 37 at the Ocean Financial Centre provides an additional 986 sqm of workspace consisting of over 160 workstations. In line with TEC's design philosophy, the space is premium in both aesthetics and functionality. Distinctive TEC elements such as Timothy Oulton furnishing, Herman Miller chairs, 9AM height-adjustable standing desks, and a dedicated barista bar are all part of the new extension of TEC at the Ocean Financial Centre.
Address:The Executive Centre, Ocean Financial Centre, 10 Collyer Quay, Level 37 and 40, Singapore 049315
Opening Hours:8.30am – 6.00pm
Barista Bar at The Executive Centre, Ocean Financial Centre
RECENT POSTS