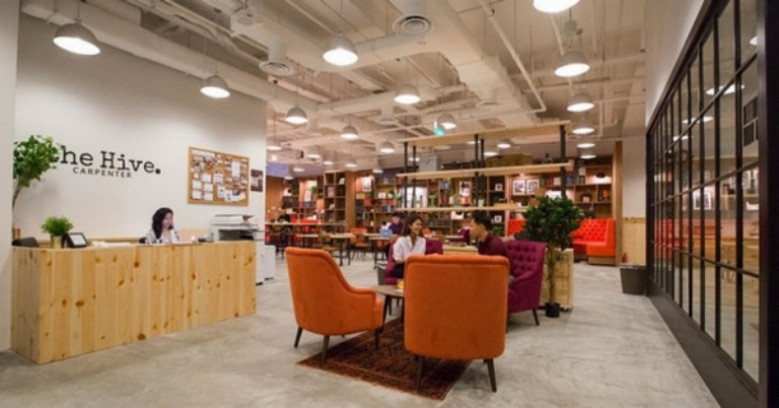 Welcoming the Hive to the Workbuddy Family
Post on March 11, 2019
We've got an exciting announcement for you, Workbuddy members! The Hive has just joined our family, bringing you 3 more inspiring locations to work from. Your choice of co-working spaces just got bigger!
One of our (many) goals for 2019 is to keep expanding our list of partner spaces, so we can offer you evermore freedom in your work life. As we see it, the more choices you have, the better your quality of life. We believe everyone deserves this level of flexibility, so do share Workbuddy with your friends (they'll get the first week free!).
Today, we talk to Community Lead at the Hive, Nadia Khan, about what workbuddies can expect from the company's 3 locations: the Hive Lavender, the Hive New Bridge Road and the Hive Carpenter.
What makes the Hive unique?
At the Hive, we make it our mission to provide the most welcoming and lovely environments for your business to thrive in. Each of our locations in Singapore has its own characteristics, and there's nothing not to love. No matter where you check in, you'll always find abundant natural lighting, cosy communal areas and a super friendly team who go out of their way to get you settled in.
We have flexible hot desks, dedicated desks and private offices available — perfect for dynamic, creative and fast-growing companies. You'll meet a vibrant community of like-minded people and have access to all the skill-building and networking events at the Hive, where you can forge new friendships and collaborations.
What three words best describe the Hive vibe?
We'd say modern, chic and diverse. What our members love about the Hive is our diverse community: we've got a real mix of freelancers, entrepreneurs and SMEs from a wide range of industries and pursuits. You never know what valuable connections you'll make!
What are your favourite things about each location?
The Hive Lavender is a hub for our community of designers, architects, photographers, writers and fashion designers. It houses both the Hive Studios, with 3 professional spaces for photography, portraits and sound recording, and the Makerhive Workshop, which holds high tech equipment including a laser cutter and 3D printer.
We love the rustic and intimate setting of the Hive New Bridge Road, which is a convenient 5-minute walk from Clarke Quay MRT station. Its spacious rooftop café is perfect for getting a breath of fresh air and a quiet moment amid the hustle of a busy workday.
You'll also love the rooftop bar on the 6th floor of the Hive Carpenter — our latest addition, situated right in the middle of CBD. The spectacular views of Marina Bay Sands make it a great place to bring clients or relax with colleagues after work.
What kind of events do you hold to get members mingling?
There's always a wide variety of events happening at all 3 locations. Entrepreneur Experiences — a monthly Q&A series with inspirational trailblazers in various fields — is very popular. We also host a monthly lunch to welcome new members and introduce them to the community. It's our way of thanking members for making the Hive such an enjoyable space to work in.
One of our biggest events is Runway, a fashion show celebrating the work of new, bold and daring local designers. It serves as a platform for them to sell their latest ideas and collections to Singapore's thriving fashion scene. In fact, we provide many opportunities for members to make themselves known, like our Meet the Makers and Meet the Crafters events, where we shine a spotlight on the creatives behind some of Singapore's coolest tech and hardware brands.
We see a lot of familiar faces at all our events, both members and non-members, who keep coming back and asking for more. Plus, we're always open to ideas about what kinds of activities are most useful for our community.
What can Workbuddy members look forward to at the Hive in 2019?
We are always excited to welcome new individuals and their fresh ideas into our creative community. We're expecting to continue growing in 2019 and seeing many new collaborations created within our walls. Keep an eye on our event calendar, because we've got plenty of excellent workshops coming up!
To experience all the Hive has to offer, simply book a free week on Workbuddy to visit any of the 3 locations and enjoy!