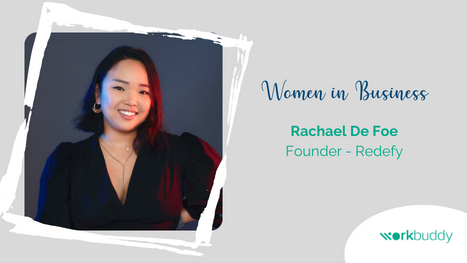 Women in Business - Interview with Rachael De Foe
Post on March 17, 2022
To celebrate International Women's Day, we interviewed workbuddy member, Rachael De Foe - Founder and Managing Director of Redefy.
Here is her story….
Tell us about your business
Redefy is a strategic communications consultancy helping visionary founders unleash their brilliance to the world.
What is your current role?
I'm the Founder and the Managing Director at Redefy! As the chief strategist in the team, most of my work is focused on helping visionary founders create pivotal innovation moments and intentional narratives.
I spend time with business leaders to hear, crystallise and articulate the unsaid so that I can help them spark new perspectives and deliver the voice they want to project to the world.
What do you enjoy most about your role?
Uncovering what's worth telling. My team and I spend our time strategising on how to take hard stories and give them heart. That means connecting the dots and crafting compelling stories that inspire conversations around important causes or industry hurdles.
What does a typical work day look like for you?
I try to start my days with a moment of quiet before diving into the nitty gritty. What drives my mornings is figuring out what the most timely asks on my plate are. After all, everything is important but not everything is urgent!
My team and I approach each project with new eyes but typically, it starts with conversations with our clients and/or Studio Partners, and turns into very action-oriented communication projects. Whether it's emerging technologies or complex systems, my team and I aim to discover what makes founders extraordinary and transform them into powerful stories that connect and resonate. Stories that have the potential to shift perceptions and shape the ecosystems around them.
How do you work towards achieving work-life balance?
Making sure that my team and I have every opportunity to find the most conducive spaces for our productivity and creativity is important. Some days this means finding a quieter environment for deep work, on others it may mean searching for a place that inspires us to push our thinking. Our workbuddy membership has been so helpful for this!
How do you wind down and relax after a stressful day at work?
Having no plans! I love being able to spontaneously decide in the moment what "relaxing" looks like and the only way to do that is by keeping the calendar open.
Do you have any tips or advice to give other women in business?
When it calls for it… sometimes it's okay to ask for forgiveness rather than permission. If you know you have what it takes — the skills, expertise and drive — then you have every reason to trust your intuition.
What is your favourite workbuddy co-working space and why?
Workbuddy makes it tough to pick a favourite! I'll let you know once I've tried all of them ;)
Redefy is looking for great individuals to join our growing team! To find out more about what working with us looks like, check out www.rdf.co
___
Interested to find out more about what it means to be a workbuddy member? Contact us and our friendly team will help find the best solution for you.
One app — Singapore's largest network of co-working spaces.
On-demand workspaces — for Individuals and Teams
No commitment. Cancel anytime.
Choose where you want to work.
workbuddy — Singapore's largest network of co-working spaces
RECENT POSTS