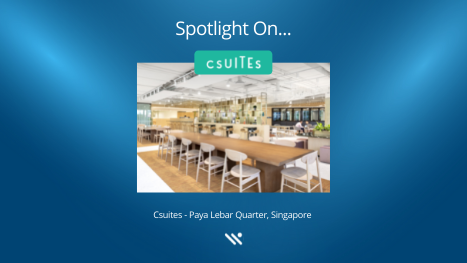 Spotlight on Csuites - Coworking Space in Paya Lebar Quarter 3
Post on January 18, 2022
Have you visited our newest workspace partner – Csuites yet?
Csuites is a premium workspace that is holistically designed to maximise working performance. Featuring a light-filled, spacious lounge area plus quiet spaces free from distractions, Csuites is fully equipped to cater to all your business needs. This beautiful workspace is definitely one to check out!
We're very excited to have Csuites onboard as an enterprise workspace partner and spoke to their team about what makes Csuites unique. Here's what they said…
What three words best describe Csuites?
People-centric, modern, and sustainable.
What makes Csuites unique?
Csuites is the first shared workplace in Singapore to receive the BCA-HPB Green Mark for Healthier Workplaces Platinum Certification. We provide a people-centric environment that enhances well-being and boosts productivity. Csuites is also the first flexible workplace purposefully designed for enterprises with team sizes of 50 to 150.
What do you love about the location of Csuites?
Thoughtfully connected to everything you need for a more positive working life, Csuites represents the shift towards hybrid ways of working and better work-life balance.
Transport: Set in the heart of Paya Lebar, Csuites offers superb transport connections, liberating employees from stressful commutes to the city centre. Situated close to Paya Lebar MRT Station, members will enjoy easy island-wide accessibility with the East-West and Circle MRT lines, 21 bus routes and convenient expressway connections. PLQ is also incredibly accessible for pedestrians and cyclists as it is integrated with the green park connector network, enabling professionals who work at Csuites to live active, low-carbon lifestyles.
Dine, shop and play: With a curated mix of over 200 shops, PLQ offers everything from everyday conveniences to quality dining, shopping and entertainment experiences. So whether you're looking for a little retail therapy during your lunch break, to blow off steam at the gym or unwind with a wine after work, professionals based at Csuites will enjoy this convenient location.
Going green: Csuites has plenty of pockets of lush green spaces for professionals to enjoy a change of scenery and a calming break amongst nature. This actively green environment is a core element of the precinct and a nod to its sustainability efforts and excellent credentials.
What regular events do you hold to help members network?
We host a range of events - both physically and virtually - across a wide spectrum of topics:
Health & Wellness
Growth & Innovation
Diversity and Inclusion
Sustainability
In addition to the above, we run plenty of fun events to encourage networking - from the occasional surprise breakfast at the pantry to seasonal specials (e.g. Christmas at The Providore) to keep things fresh and exciting.
What can workbuddy members look forward to when they visit Csuites?
Workbuddy members can access a range of shared facilities including showers, phone booths, pantry, nursing mother's room, multi-faith prayer room, first aid room, private lockers, in-house café and the gorgeous garden terrace.
Covid-Safe
At Csuites, we are committed to helping you navigate these challenging times safely by making your health, safety and comfort our highest priority. We have taken a proactive approach to ensure we maintain a great working environment, while keeping our workplace as safe and hygienic as possible for your peace of mind.
SG Clean Certified: Csuites is proud to be SG Clean Certified in recognition of our commitment and dedication to achieving the highest levels of sanitisation and hygiene standards put in place at our premises.
Robust Cleaning Regimes: We carry out frequent and meticulous cleaning works across all of our meeting rooms and common areas, paying extra special care to high touchpoints and peak occupancy hours.
Safe Distancing Measures: Our thoughtfully reconfigured layouts and safe distancing measures ensure that you have plenty of physical space. Hand sanitisers and disinfectant sprays are also readily available for your use.
About workbuddy:
Access Singapore's largest network of co-working spaces with one pass! Sinply download the workbuddy app, choose your workspace and check in. It's that easy! Enjoy 1-week free with the promo code FREEWEEK.
On-demand access to Singapore's largest network of professional workspaces
Pay as you go, low commitment passes for teams
Flexible workspace solutions
RECENT POSTS