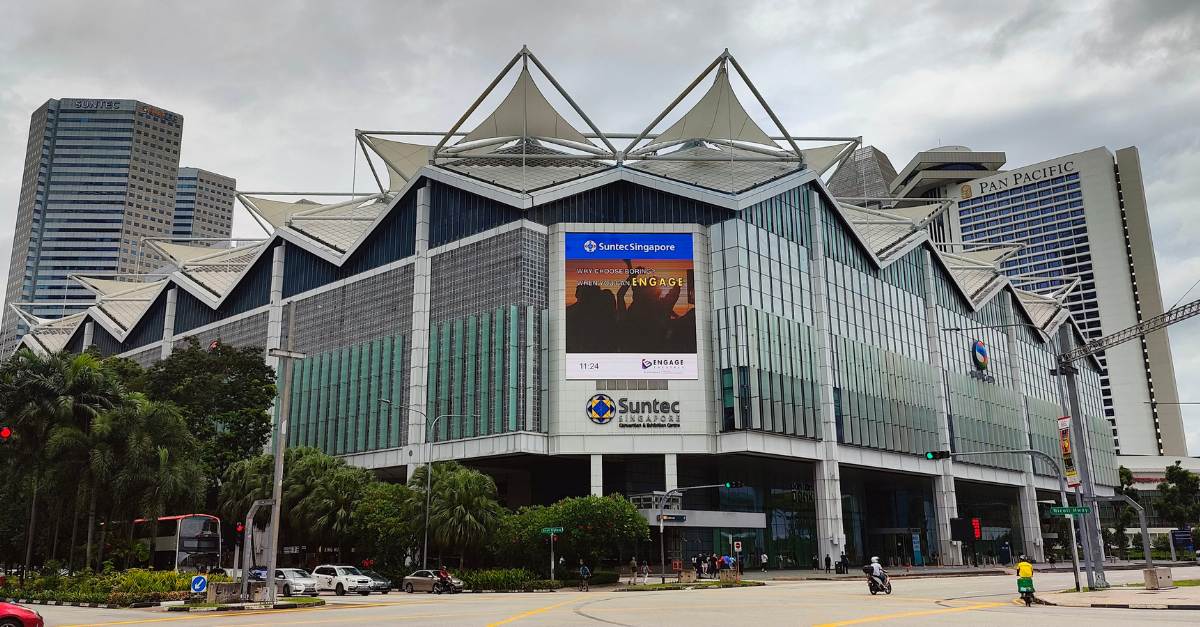 8 Best Coworking Spaces Near Suntec (2023)
Post on July 16, 2023
When searching for an office space that fulfils all your daily necessities, one of these key factors should be determining the best location that allows your company to truly thrive. Suntec is one of these destinations, a bustling neighbourhood that puts your company at arm's reach of any amenity you could desire.
Discover Suntec, the vibrant epicenter of Singapore's business landscape. With its strategic location and abundant amenities, Suntec offers the perfect setting for your office space. From world-class convention centers to prestigious hotels hosting multinational events, Suntec is a dynamic hub of business opportunities. Immerse yourself in the vibrant streets, where traditional markets, captivating temples, and iconic neon signs blend seamlessly. Embrace the energy and convenience that Suntec provides, and unlock the potential for your company to thrive.
If your company is on the lookout for an inspiring district that accommodates startups, creatives, entrepreneurs, and bigger corporations hailing from various industries, look no further than Suntec for your next office space location. In this guide, we've narrowed down the best coworking and serviced office spaces near the area, so you can get your search started on the right foot.

1. workbuddy : Simplifying Your Search for Office Space.

For a personalised approach to finding your ideal Coworking spaces in Singapore, workbuddy puts all the city's best offerings at your fingertips. Its broad directory of flexible office spaces caters towards all company sizes, industries, and budgets, presenting you with the most affordable options according to your preferences. From shared office in Paya Lebar Quarter to a serviced office in Orchard, FlexFinder is ready to help you find the workspace of your dreams – just simply fill out your desired location, team size, and office solution, and you'll be well on your way. Below are some of the coworking spaces workbuddy collaborates with in Suntec.


2. Ucommune Suntec


Ucommune Suntec Tower 2 is conveniently located next to four major MRT lines making it ideal for your everyday commute to and from work. This office centre is equipped with a pool table, games area, large lounging space, massage chair, all whilst being surrounded by stunning views of the city skyline and a glimpse of the National Stadium. Now that's what you can a good work-life balance.
Address: 9 Temasek Boulevard, #07-01 Suntec Tower 2, 038989


3. WeWork Suntec Tower 5


Rising above a lively shopping mecca and perched in a modern skyscraper, WeWork at Suntec offers a central address and unparalleled amenities. Inside, find beautiful lounges, sleek private offices, and state-of-the-art conference rooms designed to inspire your team and drive your vision forward.
WeWork Suntec also has private offices for large teams, and can accommodate up to 100 people in one office. Many hotels are found nearby, such as The Pan Pacific Singapore and the Ritz-Carlton--not to forget the historic Raffles Hotel. WeWork - Suntec Tower 5 also boasts three MRT stations close by: City Hall, Esplanade and Promenade, all giving you easy access to the rest of the city.


4. Servcorp Suntec Tower 3


Servcorp is located on the penthouse level of Suntec City, an iconic shopping and entertainment destination in the heart of the bustling Marina Bay precinct. Conveniently located above Promenade MRT station, members will enjoy the panoramic views of Marina Bay, the city skyline and Singapore harbour.

Address: 8 Temasek Blvd, Level 42 Suntec Tower Three, Singapore 038988.


5. CEO Suite Centennial Tower

CEO SUITE's newest location is enviably situated on the 21st level of Centennial Tower, Singapore. This luxurious business center is designed with feng-shui principles and boasts unobstructed waterfront views of Marina Bay and lush green skyline from its reception, lounge and boardroom.
Centrally located in the Marina Centre zone of Singapore CBD, Centennial Tower is extremely well connected with Promenade MRT station just a stone's throw away. Esplanade and Bugis MRT stations are also both within a one-kilometre radius.
Centennial Tower is adjacent to Millenia Tower and conveniently close to Suntec City. Comprehensive amenities range from restaurants, banking services, Suntec convention centre, retail shops and shopping malls such as Millenia Walk, Suntec City Mall and Marina Square, in addition to 5-star hotels such as Conrad Centennial Singapore and Ritz Carlton.
Address: Centennial Tower, 21st Floor, 3 Temasek Avenue, Singapore 039190


6. TGR Centennial Tower
Designed for inspiration, comfort and productivity, The Great Room, Centennial Tower occupies 36,000 sqft with panoramic views of Singapore and is filled with natural light, features an in-house barista, event suites, flexible meeting room spaces and business lounges.
Located above Promenade MRT station, near shops and restaurants, and strategically located in Singapore's central business and financial district, Centennial Tower is situated in a landmark waterfront location with a mixture of commercial, residential, hotel and entertainment facilities, and an international convention and exhibition centre at The Suntec City Convention Centre just a stone's throw away.

Address: 3 Temasek Avenue, Level 18 and 17, Singapore 039190

7. The Executive Centre - Gateway West


An address for success. At the fringe of the city centre and Suntec City, located on Beach Road, is The Gateway – a stunning and iconic landmark in the city since 1990. Located a few minutes away from train and bus links, it has easy access to the rest of the city. This prestigious workspace features sleek and modern interiors that are sure to inspire. Entertaining clients is easy with restaurants, shops and cafés conveniently located nearby.
8. City Serviced Offices - South Beach Tower
City Serviced Offices @ South Beach Tower is centrally located close to Singapore's most iconic landmarks including Raffles Hotel and Marina Bay Sands. South Beach is easily accessed via public transport and with underground parking off Nicoll Highway, this Grade A office space can be tailor-made to suit your changing business needs.
Getting there: South Beach Tower is strategically located on Beach Road bordering Singapore's Central Business District. Esplanade MRT station connects directly to South Beach Tower via exit F.
Address: 38 Beach Road, Level 30, South Beach Tower, Singapore 189767.
We hope this narrows down your search for the best coworking space in Suntec according to your needs! As a member of workbuddy, you get access to all of the best coworking spaces in Singapore with a single pass, so you can try a few before you settle on one. Plus, the first week is on us. Download the workbuddy app for your free trial.