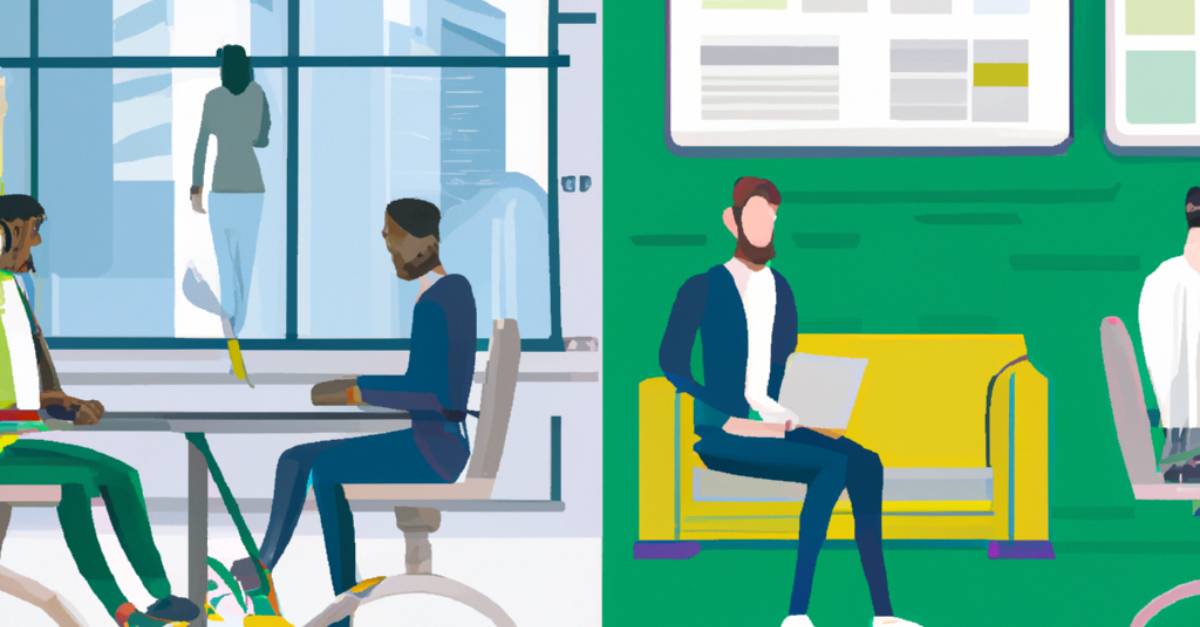 Coworking vs Traditional Office Space: Which is right for your business in Singapore?
Post on August 8, 2023
Every business is unique. Your office space needs may be completely different to the next business. Some businesses thrive in coworking spaces, others do better in traditional office spaces. If you need to make a decision and are about to write up a pros and cons list of options, you're in luck: we've done it for you!
Here are the pros and cons of coworking spaces vs traditional office spaces in Singapore, to help you find what's right for your company.
1.) The pros and cons of coworking spaces in Singapore:


The pros of coworking spaces:
Affordable prime locations: Many businesses resign themselves to the outskirts of the city for more affordable leases. But coworking spaces are able to offer top quality office space in the centre of the city at much more affordable rates.

Flexible: Coworking spaces offer affordable short-term office leases with no lock-in long-term contracts.

Lower overheads: Shared access to amenities means you don't need to invest in your own office equipment. Plus, costs like cleaning, heating, air conditioning and building maintenance are not solely yours to bear.

Data security: Many coworking spaces in Singapore are equipped with state-of-the-art IT equipment to ensure full data security for every office onsite.

Variety: There is a wide range of coworking spaces in Singapore to choose from. Workbuddy has the largest network of partner coworking spaces in the city, and we can help you find one you love.

Access to talent pools: It's easy to meet people who have the expertise you need because coworking spaces bring such a wide variety of people together.

Community: Coworking spaces provide more opportunities to socialise both outside and within your own team. Plus, you have a sense of comradery with other businesses around you, being "all in this together".


Designed to boost productivity: Coworking spaces have a variety of fit-to-purpose spaces, such as quiet zones for concentrated work, soundproof phonebooths for calls, meeting rooms for collaboration… and some even have meditation rooms and gyms!

Beautiful: Well-designed spaces equipped with modern office furniture and supplies make a good impression on clients, investors and talent alike.


Fun: Many coworking spaces organise a calendar of interesting social events that are both educational and enjoyable.
Read: Top 5 Coworking Spaces in Singapore for Teams
The cons of coworking spaces:

Less control: While you can decorate your coworking office space however you like, if you want to change something about the public area of a coworking space, you'll have a lot more people to convince than if it were your own space.

Distractions: If you choose to work in the open layout section of a coworking space, there may be much more activity that you're used to in a traditional office, which you may find distracting. Game areas and gaming equipment can sometimes do more harm than good, if not managed properly.

Shared space problems: Facilities such as meeting rooms or phone booths may not be available every time you want them, so you have to use a booking system to access the facilities you need.

Limited access: If you need to work late or do an all-nighter, not all coworking spaces allow 24-hour access.
2.) The pros and cons of traditional office spaces in Singapore:


The pros of traditional office spaces:

Full control: You can choose the layout, aesthetics and equipment of the office down to the last detail. Some companies have embraced a flexible office layout and made the space very similar to a coworking space, but for their company only.

Data security: With no unauthorised professionals entering the space, businesses have more control over their workstations and can ensure their data is kept confidential.

Better team relations: Interacting with the same people every day may lead to better relationships within the team.

Easy access to facilities: Depending on how large your company is, it is more likely that facilities such as meeting rooms will be available whenever you need them in a traditional office space.

Fewer distractions: With fewer people, the office is likely to be quieter (with some exceptions for chatty team members!).

The cons of traditional office spaces:
Prime locations are expensive: Commercial leases in Singapore are climbing every year, and the rent for traditional office spaces in CBD is too high for many companies.


Long-term leases: Most commercial leases in Singapore start with a 3 to 5-year contract, which for many small businesses is not feasible.

Not flexible: If the company suddenly needs to downsize, there are high fees for breaking leases early.

High overheads: The costs of office equipment, cleaning, heating, air conditioning and building maintenance are solely yours to bear.

Productivity struggles: If the office is not designed to be human-focused or flexible, people may struggle to be productive. Open-plan layouts can be too noisy, cubicles can hinder communication and collaboration.

Hiring costs: A traditional office space is used by one group of people only, so finding new talent usually requires hiring a recruitment agency and the process of finding the right person can consume a lot of time and energy.

Old-fashioned designs: Many traditional office spaces in Singapore are painted all-white with strip lights and low ceilings. Due to the high rent, many companies cannot afford to redesign their own offices, and their spaces can end up uninspiring at best.



We hope this narrows down your search for the best coworking space in Singapore according to your needs! As a member of workbuddy, you get access to all of the best coworking spaces in Singapore with a single pass, so you can try a few before you settle on one. Plus, the first week is on us. Download the workbuddy app for your free trial.