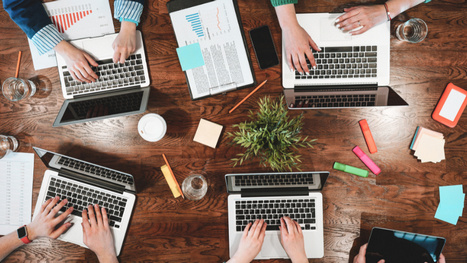 Top 5 Coworking Spaces in Singapore for Teams (2022)
Post on June 1, 2022
Coworking has always been thought of as a great choice for entrepreneurs and start-ups; however, in recent years, coworking has started to gain more popularity with corporates looking for flexible workspace options and improved cost efficiency.
There is much discussion on what the future of work will look like in a post COVID-19 world, but one thing is certain – cost efficiency and agility will be key to long-term business survival and the popularity of coworking spaces for teams will continue to rise.
Cost efficiency:
The days of employees working at the same fixed desk with the same people from 9am – 5pm are a thing of the past, and expensive, long-term rent contracts are no longer necessary. Businesses are opting for affordable and flexible workspaces that allow them to be agile and scale up or down easily.
Flexible workspaces:
The pandemic has taught us that companies need to be able to adapt quickly, and easily. Safe distancing is the new norm and employers are now looking at ways to space out their teams or provide alternative options for remote work.
Work-life balance:
When the circuit breaker first started, many believed that businesses would come to a grinding halt; however, what actually happened was far from this and many businesses have actually functioned more efficiently. In a post COVID-19 world, flexible work arrangements and work-life balance will be key to recruiting and retaining top talent.
Here at workbuddy, we have partnered with over 45 of the best coworking spaces in Singapore to provide affordable and flexible workspace solutions. Having helped small start-up businesses with flexible hot desks and large multinational corporates with workspaces for teams, we understand the market and your business needs. Below is our handpicked list of coworking spaces for teams.
Top 5 Coworking Spaces in Singapore for Teams (2020).
1. Signature by Regus (Asia Square):
Global flexible workspace operator IWG operates Signature, located on the two top floors in Asia Square Tower 1 in Singapore's Central Business District. Spanning more than 71,000 square ft, the work space boasts panoramic views of the Singapore skyline. Customised options are available for large teams complete with branding, private access and security. A variety of rentable conference rooms, open co-working areas across the two floors, nursing rooms, telephone booths, and locker space makes Signature ideal for large teams looking for premium workspace. Its location is close to Raffles Place and Bayfront MRT and the building hosts a wide array of F&B options.
Choose Signature by Regus, Asia Square for:
Panoramic views
Large offices
Premium workspace.

2. The Executive Centre (6 prestigious locations across Singapore):
The Executive Centre's core focus is on providing high-end flexible workspace solutions. With six prestigious locations across Singapore including Frasers Tower, Ocean Financial Centre, Six Battery Road, One Raffles Quay, MBFC and the Gateway Tower West, TEC offers fully tailor-made workspaces to fit any business requirement. At the heart of their business is best-in-class customer service with advanced IT support and state of the art technology.

Choose The Executive Centre for:
Prestigious workspaces
First class customer service
Community

3. The Work Project (Capitagreen):
The Work Project CapitaGreen is a 22,000 square ft flexible workspace located in one of the most highly coveted Grade A buildings in the heart of Singapore's CBD. Newly opened and located on Level 5 of the building, the space features an impressive mix of small and large enterprise suites, as well as a 5,000 square ft outdoor sky terrace which can be configured for outdoor events and functions.

Choose The Work Project, CapitaGreen for:
Award winning design
Raffles Place location
Outdoor terrace

4. Servcorp (Marina Bay Financial Centre):
Servcorp's belief is that "value has nothing to do with what you pay, but what you get for your money." They provide excellent customer service and take a genuine interest in their clients. Servcorp has invested millions into their technology to provide clients with state of the art IT and communications infrastructure. Their world-leading technology bridges the gap between office, mobile, and home phones which provides businesses with the convenience of having their office at their fingertips no matter where they are.

Choose Servcorp for:
World-class technology and communications
MBFC location
Views

5. SPACES (TripleOne Somerset):
This development is part high-end shopping mall, part designer office and is fast becoming the most vibrant coworking community in and around Orchard. Located on the country's main shopping and entertainment belt, with bar and dining street Emerald Hill nearby, there's no shortage of opportunity to discover Singapore's famous food scene and culture. Getting around this vibrant area couldn't be easier, as access to Somerset MRT station is directly opposite the coworking space. Spaces has 2 floors with options to customise large spaces for teams.

Choose SPACES, TripleOne Somerset for:
Vibrant coworking community
Central Orchard location
Cost efficiency
Contact workbuddy today to speak to our friendly team about your specific requirements.