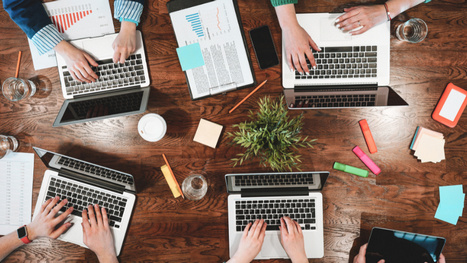 Top 5 Coworking Spaces in Singapore for Teams (2023)
Post on July 17, 2023
Coworking has always been thought of as a great choice for entrepreneurs and start- ups; however, in recent years, coworking has started to gain more popularity with corporates looking for flexible workspace options and improved cost efficiency.
There is much discussion on what the future of work will look like, but one thing is certain – cost efficiency and agility will be key to long-term business survival and the popularity of coworking spaces for teams will continue to rise.
Cost efficiency:
The days of employees working at the same fixed desk with the same people from 9am – 5pm are a thing of the past, and expensive, long-term rent contracts are no longer necessary. Businesses are opting for affordable and flexible workspaces that allow them to be agile and scale up or down easily.
Flexible workspaces:
The pandemic has taught us that companies need to be able to adapt quickly, and easily. Safe distancing is the new norm and employers are now looking at ways to space out their teams or provide alternative options for remote work.
Work-life balance:
When the circuit breaker first started, many believed that businesses would come to a grinding halt; however, what actually happened was far from this and many businesses have actually functioned more efficiently. In a post COVID-19 world, flexible work arrangements and work-life balance will be key to recruiting and retaining top talent.
Here at workbuddy , we have partnered with over 45 of the best coworking spaces in Singapore to provide affordable and flexible workspace solutions. Having helped small start-up businesses with flexible hot desks and large multinational corporates with workspaces for teams, we understand the market and your business needs. Below is our handpicked list of coworking spaces for teams.
Top 5 Coworking Spaces in Singapore for Teams (2023).
1. WeWORK 21 Collyer Quay :
WeWork 21 Collyer Quay, the premier flexible workspace occupying all 21 floors of the esteemed former HSBC headquarters. With over 220,000 square feet of net lettable area, this location stands as one of WeWork's global flagship assets.
At WeWork 21 Collyer Quay, you'll find a range of fully furnished shared and private office spaces, designed to meet your every need. Collaborate in the living-room-style work lounges, engage in events at the auditorium, and make use of the business center for seamless productivity. Plus, indulge in breathtaking panoramic views of the Singapore skyline at the sky bar, making it an inspiring backdrop for your workday.
Designed to cater to the enterprise business segment, 21 Collyer Quay is tailored to the needs of large multinational companies and Fortune 500 corporations. Enjoy spacious full-floor options that include private offices, dedicated workspaces, meeting rooms, phone booths, and collaborative areas. This space is ideal for companies with more than 50 people who desire the perfect balance between their dedicated space and the cost-saving efficiency of a coworking environment. You can maintain your brand, security, and identity while enjoying the benefits of a vibrant coworking community.
Breathtaking panoramic views
Wellness Centre
Café
Auditorium
Full Floors Fitted to your needs

2. The Executive Centre (7 prestigious locations across Singapore):
When searching for a team space in coworking centers, staying informed about upcoming opportunities is essential. Understanding the availability of new stock can be advantageous, as it allows coworking operators to customize the space according to your specific needs. That's why we're excited to include The Executive Centre in Singapore Land Towers on our list.
Scheduled to open in 2024, this impressive location adjacent to the Raffles Place MRT Station offers great accessibility. Spread across three floors, it will span approximately 32,000 square feet and provide 490 workstations. The Executive Centre is dedicated to providing tailored and flexible workspace solutions, ensuring that your team's requirements are met with precision.
By keeping an eye on these exciting developments, you can secure a team space that aligns perfectly with your needs and enjoy the benefits of a well-designed, collaborative work environment. Stay tuned for updates on the launch of The Executive Centre in Singapore Land Towers, coming soon in 2024.
Choose The Executive Centre for:
Prestigious workspaces
First class customer service
Community

3. Signature by Regus (Asia Square):
Global flexible workspace operator IWG operates Signature, located on the two top floors in Asia Square Tower 1 in Singapore's Central Business District. Spanning more than 71,000 square ft, the work space boasts panoramic views of the Singapore skyline. Customised options are available for large teams complete with branding, private access and security. A variety of rentable conference rooms, open co-working areas across the two floors, nursing rooms, telephone booths, and locker space makes Signature ideal for large teams looking for premium workspace. Its location is close to Raffles Place and Bayfront MRT and the building hosts a wide array of F&B options.
Choose Signature by Regus, Asia Square for:
Panoramic views
Large offices
Premium workspace.

4. The Work Project (Capital Towers new floor and 6 Battery Road ):
The Work Project Capital Towers will be adding a new floor to the already existing 2 floors of coworking space in Tanjong Pagar. With the brand new floor of co-working spaces and serviced offices Located directly above Tanjong Pagar MRT Station, The Work Project Capital Tower will occupy the entire 12 th , 20 th and 19th floor of the 52-storey building. Exclusive Business Club, lots of natural light and free meeting room credits make this one of the best offering in the market.
Choose The Work Project, Capital Towers for:
Award winning design
Business Club
Customisable office space
Pre opening promotional rates

5. SPACES (TripleOne Somerset):
This development is part high-end shopping mall, part designer office and is fast becoming the most vibrant coworking community in and around Orchard. Located on the country's main shopping and entertainment belt, with bar and dining street Emerald Hill nearby, there's no shortage of opportunity to discover Singapore's famous food scene and culture. Getting around this vibrant area couldn't be easier, as access to Somerset MRT station is directly opposite the coworking space. Spaces has 2 floors with options to customise large spaces for teams.

Choose SPACES, TripleOne Somerset for:
Vibrant coworking community
Central Orchard location
Cost efficiency
We hope this narrows down your search for the best coworking space in Suntec according to your needs! As a member of workbuddy, you get access to all of the best coworking spaces in Singapore with a single pass, so you can try a few before you settle on one. Plus, the first week is on us. Download the workbuddy app for your free trial.