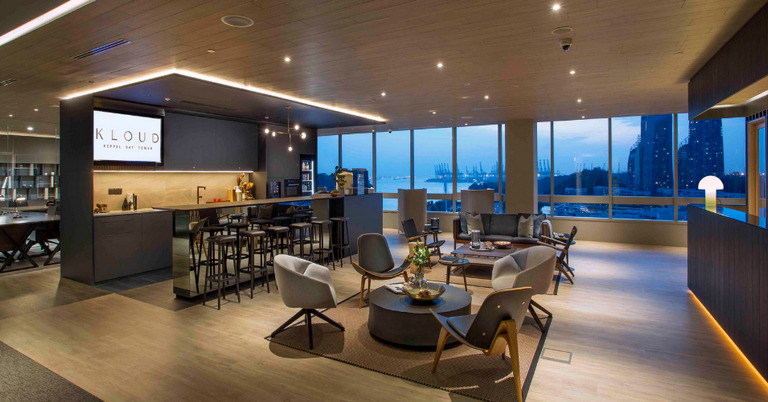 Introducing the newest addition to our network of premium coworking spaces!
Post on February 25, 2020
Workbuddy members, get excited! We've just added KLOUD Keppel Bay Tower to our network of premium coworking spaces in Singapore.
We interviewed the KLOUD team to find out more about what workbuddy members can expect when they visit KLOUD Keppel Bay Tower.
What 3 words best describe KLOUD?
Premium. Chic. Smart.
What makes KLOUD Keppel Bay Tower unique?
Upon stepping into KLOUD Keppel Bay Tower, members will experience a sophisticated and professional vibe, augmented by our sleek furnishings and chic design.
Situated in Singapore's only waterfront business hub, KLOUD Keppel Bay Tower offers an unobstructed view of the Marina at Keppel Bay and Mount Faber. The location is also well-connected – just 5 minutes walk from Harbourfront MRT Station. There are a wide variety of dining options available in VivoCity or Seah Im Food Centre, entirely connected by sheltered walkways. Retail options are also abundant at VivoCity, the largest shopping mall in Singapore.
What are your favourite things about KLOUD?
The amazing waterfront views, chic design, networking events and friendly staff.
What regular events do you hold to help your members network?
We host regular breakfast events, festive celebrations and also a number of annual signature events such as Oktoberfest!
What have been the most popular workshops you've hosted?
Interactive, hands-on workshops are always very popular. Our members loved our Mooncake Making event and Tea Appreciation & Aromatherapy workshops. Family themed events such as 'Bring Your Kids to Work' are also very popular.
What can members look forward to in 2020?
We will be hosting an exciting range of new workshops and networking events.
Interested in checking it out? KLOUD Keppel Bay Tower is available to book on the workbuddy app. Book a hot desk, check in and enjoy the stunning Singapore views!
Address:1 Harbourfront Ave, #13-03 Keppel Bay Tower, Singapore 098632
Opening Hours:Mon-Fri 8.30am – 6.00pm
Not a workbuddy member, but interested in trying some of the fantastic coworking spaces on our platform? Join today and get your FIRST WEEK FREE
KLOUD Keppel Bay Tower
RECENT POSTS