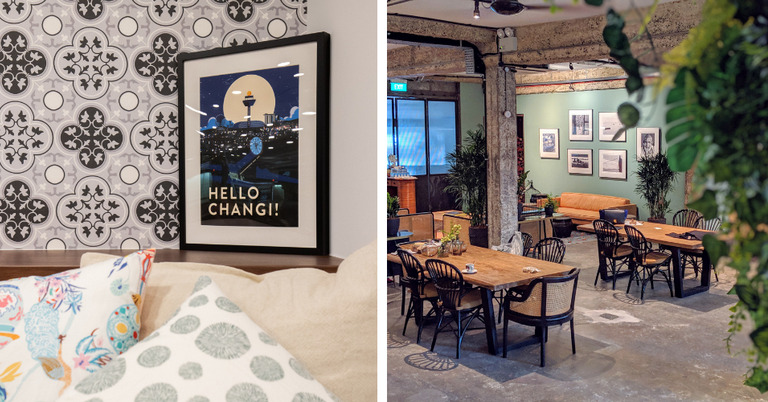 Welcoming 2 more fabulous co-working spaces into our network!
Post on February 10, 2020
Workbuddy members, good news! You can now access two more fantastic co-working spaces with your workbuddy pass: Crane at Robertson Quay and…. this one's for all you business travellers – CONNECT at Changi Airport!
These two fantastic co-working spaces bring the total tally of workbuddy partner locations to 36, but we're not stopping there! Stay tuned for new additions to our ever-expanding network coming up this year. For now, here's a bit more about what to expect at each of these additional co-working spaces:
CONNECT @ Changi Airport, Terminal 2
If you travel a lot, you'll love Garage Society's new CONNECT space at Changi Airport. Once you've checked in at Terminal 2, you can settle down to get some work done in this convenient business hub, complete with a networking lounge, private meeting room, event space, dedicated internet and phone booths, and even drinks and snacks!
No more stressing out about finding somewhere to prep for that meeting or answer those never-ending emails before boarding the plane. It's only right that hard working professionals like you should have a proper space for productivity on your trip. And Garage Society's purpose-built hub is just the thing!
We're excited to partner with Garage Society because they're committed to providing much more than a workspace for their members. They pride themselves on being a holistic business solution, empowering the start-up community by facilitating collaboration, innovation and shared learning. Their popular co-working spaces, workshops and events are all designed to be member-centric, putting your needs first.
They've already hosted successful talks on topics such as human resources, wellness and nutrition at this space, and are set to open a second co-working space in Singapore later this year. So, before your next flight, make sure to book a desk at CONNECT @ Changi Airport, Terminal 2 with your workbuddy pass.
Crane, Robertson Quay
Have you visited Crane's beautiful co-working space at The Herencia, Robertson Quay yet? If not, go now! You'll love the quaint vintage windows, the fresh floral arrangements, and the lush food and drink at Mercato.
We're delighted to have Crane as a partner because they really take community to the next level! When you visit, you'll join a group of enthusiastic members who love sharing their vision, skills and experience with others. Every month, they host more than 70 activities, ranging from yoga classes to wine & whisky tastings to sustainability fairs.
If you love swing dancing or Bhutanese cooking, you'll love these people. In fact, one of their most popular events recently was a Bhutanese Cooking Class with Aum Tshomo, a chef whose family has served the Bhutanese royal family for generations.
That gives you an idea of the kind of creative, inclusive community you'll be a part of when you check in for a day with your workbuddy pass. Best of all, they're open from 9am to 9pm on weekdays and 9am to 6pm on weekends! You'll find them at The Herencia, 46 Kim Yam road, #01-05/06/07, Singapore 239351.
You can access all these beautiful co-working spaces and more with your workbuddy membership. And if you aren't already a workbuddy member, try it free for a week and find out what all the hype is about!
Or, if you have friends stuck working in cafés or trying to work from home, send them this link to help them break free.
Happy co-working!
RECENT POSTS