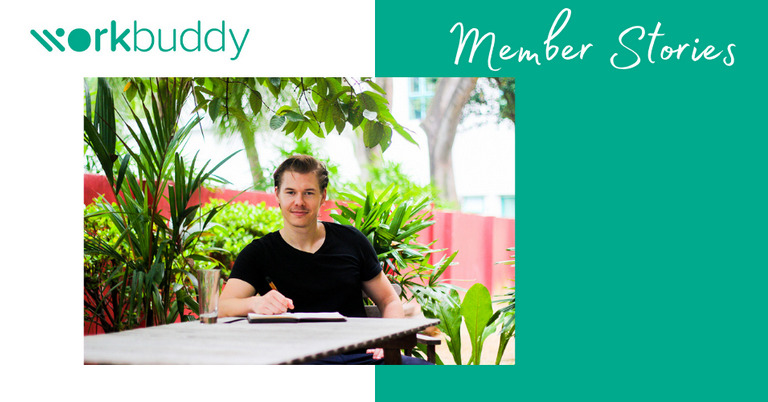 Workbuddy Member Stories | Marc Giovannini: Singapore Entrepreneur Changes Retail Experience Through Augmented Reality
Post on March 3, 2021
"I grew up most of my life in Switzerland; but I started travelling at a young age because of how my parents raised me. They learnt so much when they travelled; so they've always wanted me to be open-minded and explore the world.
How did I end up as an entrepreneur living in Singapore? Well, my adventures – and life, really – in Southeast Asia began when I worked at a startup digital agency in Malaysia. I grew to love Asia. Things move so quickly and there so are many opportunities that converge lifestyle and business.
When I was in Malaysia, I'd work hard on weekdays and then fly off to a different Southeast Asian country by Friday. It was on a night out at a famous bar in Bangkok that I bumped into my friend and client at the time, Lukasz. He was based in Singapore and wanted to catch up.
We met the following week in Singapore and he told me about Omniaz, his next startup venture. He was tapping into a huge market dealing with alcoholic beverages and wanted to know if I was interested in joining him. His idea involved consumer products and tech – both things I love – so I was in.
Lukasz and I always thought that augmented reality (AR) was the next big thing. Snapchat and Instagram filters were starting to grow quite rapidly, so why not apply AR technology to the beverage industry to help brands and consumers.
By pointing your phone camera at a bottle, brands and retailers get a chance to communicate their message to you. In turn, you get to learn about the brand's story in an engaging new way.
With that in mind, we entered a long phase of building the product from January to September 2019. We made a huge breakthrough with the technology, which meant that rather than creating a couple of AR experiences per app, we could create millions!
We rolled out a campaign for Wine Connection and augmented their entire portfolio. It was a success and we were ready to sell our AR solution to the market. But then COVID-19 hit, which was a huge blow to us.
We realised very quickly that we had to do something. We couldn't just wait around until we went bust without any sales or traction. So what we did was expand our AR solution to not only beverages, but any type of retail product.
Because of COVID-19, people were forced to stay home. This heavily accelerated online ordering and interaction. Even my girlfriend's dad who was never huge on video calls is now on Zoom, so tried to adapt and tap into this shift in behaviour.
When you do online shopping, you get to see pictures of a dining table, for example. But you don't know how the table fits in your home. With AR, you literally plug in a widget, click on the dining table on your mobile phone and see it projected at home in front of you.
You can now see how the home appliance or any other product fits in a room, how you like the colour and whether it fits through your front door. We're letting you see before you buy. In that sense, AR has converged the offline and online world seamlessly.
In these past two years, I've had days where I genuinely thought 'this is the end'. But what I've learnt is that being an entrepreneur requires being able to adapt quickly. It requires persistence, resilience and never giving up. You learn to cope. You have to.
Even with our previous office arrangement, we realised that it didn't make sense to pay rent for six people and not use the space because of the circuit breaker. We had to adapt, so we cancelled our contract and opted for workbuddy coworking memberships to give us more flexibility instead.
The app lets you work at any co-working space of your choosing. It's also much cheaper than being rooted to one office that you have to pay fixed rent for. I've been recommending workbuddy to many friends who are entrepreneurs or freelancers.
Owning a startup business can be very challenging. You need to pull yourself up over and over again and rely on family, friends and close ones for moral support. You also need a reason and purpose to keep going. For me that is my passion for AR and a mission to make a meaningful impact."
– Marc Giovannini, 29, Omniaz Co-Founder.